English
Rationale
When planning our English curriculum, key study texts are chosen as the vehicle to drive many of our lessons in both reading and writing. As far as possible, texts are chosen to fit in with the overall Discover, Explore or Create topic and/or key national and local events such as Remembrance; this creates links across children's learning experiences and provides the children with as many opportunities as possible to build on prior learning and understanding. Above all, care is taken to choose quality texts that the children will engage well with and benefit most from in terms of their learning.
Teachers use our reading and writing Skills and Knowledge Progression documents to ensure progression across the year groups and to guide them on curriculum content.
We follow Phonics Bug Synthetic Phonics Programme to teach phonics in EYFS and Key Stage 1 and the accompanying individual reading books to support the programme. All teaching and support staff have accessed phonics training led by the Phonics Bug team and use this knowledge when teaching and supporting children to throughout the school.
We have a clear focus on the transcription elements of writing (spelling and handwriting) throughout the week and sentence-level work via daily Spotlight Sentences; strong foundations in these areas allow children to produce more advanced writing compositions as they are able to focus on the quality of content rather than the transcriptional demands when writing at length. We use Doodle English to support our teaching of grammar and spelling and Letter-join to support handwriting, which ensures consistency in practices. Both programmes provide clear progression within and across year groups; both are interactive and both allow children to access the programme at home, thus strengthening links between school and home. These resources are used regularly throughout the week to ensure that children have opportunities to revisit key knowledge and skills regularly.
We do not follow a reading comprehension or writing scheme but have developed and continue to develop, practices in line with the most up to date research and guidance across all areas of English.
Writing tasks are creatively planned to give the children a purpose; to allow them to build on prior learning and experiences and to use author's techniques and styles as models for their own writing.
Reading strategies are taught explicitly and children given opportunities to gradually become more independent to apply the skills. The further development of these skills is planned for and promoted through study of key class texts.
The English curriculum provides fantastic opportunities to promote British values through speaking and listening tasks, such as debating, and diversity through choice of author and text. Diversity within text choice is something that is a key area of development for us currently, as we strive to provide our children with as much knowledge and understanding as possible, about our excitingly diverse world.
English long-term plans
EYFS & KS1 Knowledge and Skills Progression for reading
KS2
Knowledge and Skills Progression for reading
EYFS & KS1
Knowledge and Skills Progression for writing
KS2
Knowledge and Skills Progression for
writing
Enrichment
Each year, we take part in World Book Day celebrations, dressing up, hosting book-related quizzes, joining in with World Book Day live lessons and much more, as planned by class teachers.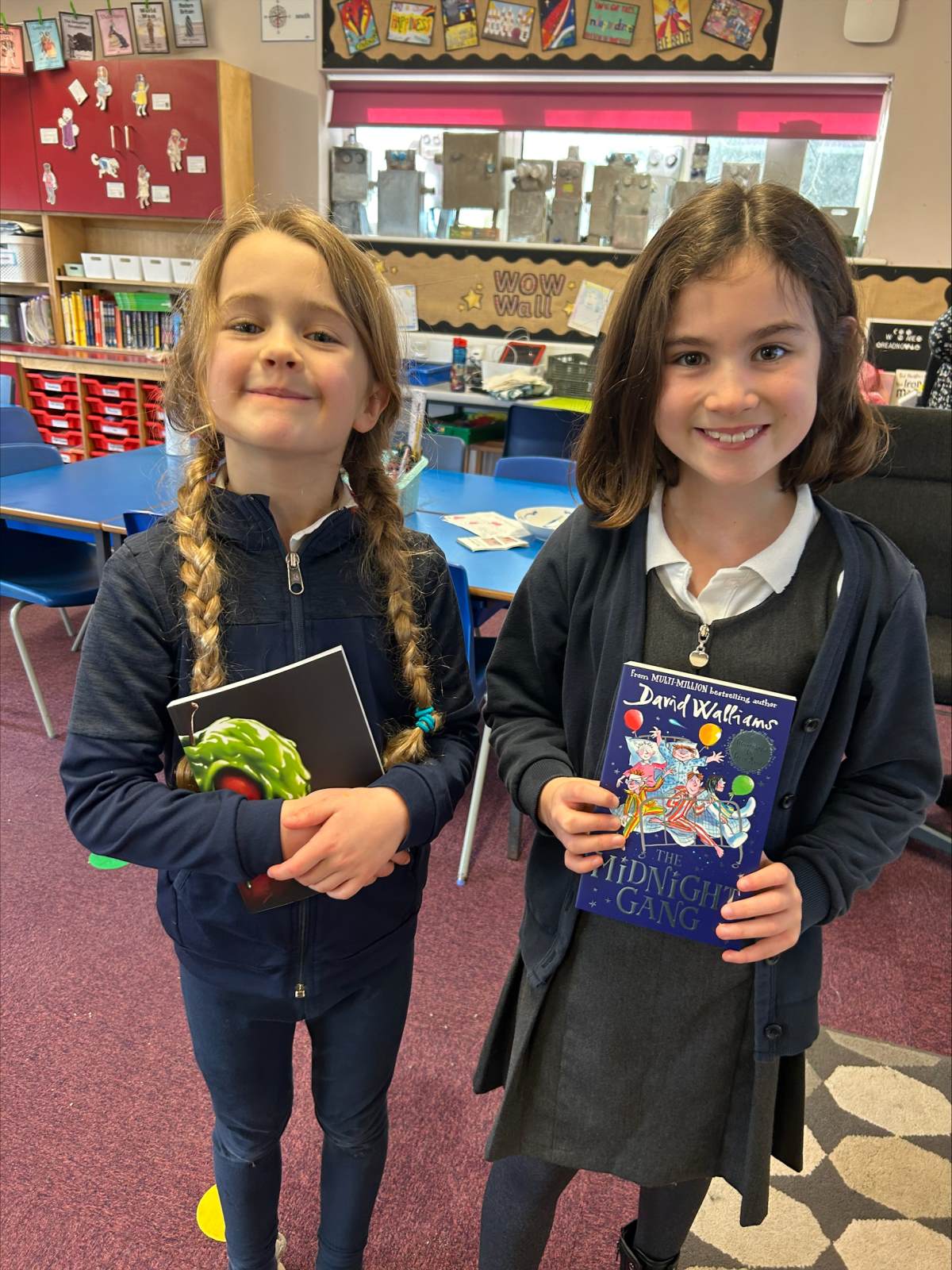 At the end of each term, we have our Reading Raffle to promote and encourage reading outside of school. Children have the opportunity, throughout the term, to earn Reading Raffle Tickets; the winner of each class is then drawn at the end of term before they choose a new book to take home.
Pupil Reading Ambassadors spread their love of reading across the school as they talk about the books they love, making recommendations to others; hold story times and even have assembly slots to talk about their favourite books and authors.
Our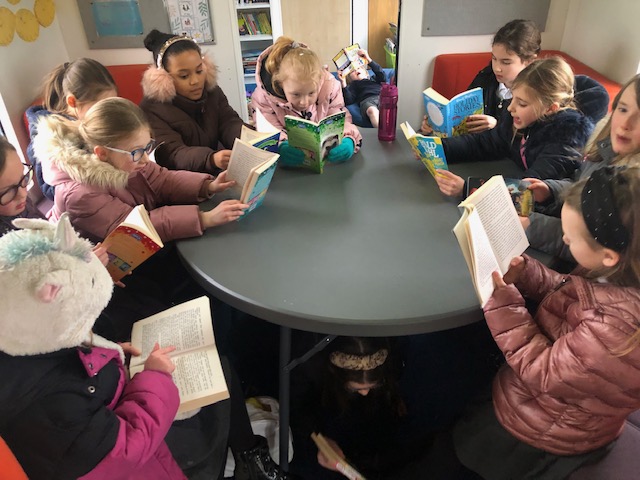 Library on the bus is the perfect place to enjoy Storytime, hold quiet reading sessions or borrow a book from.
Keep your eyes peeled in school, for grown-ups wearing Ask Me What I'm Reading badges. Adults in our school love to read and talk about what they are reading so are happy to be asked, 'What are you reading?' throughout the day.
Our teachers plan lots of lovely experiences to write about, such as going on a trip or welcoming a visitor. We always make a point of writing to our visitors to thank them for visiting and sharing their knowledge and experiences with us. They're always a great opportunity to ask lots of questions, too!